Book review
by Tamara Kaye Sellman

Our Lady of the Artichokes and Other Portuguese-American Stories

I don't often read all the books produced by a single author. JRR Tolkien, Louise Erdrich, Margaret Atwood, Franz Kafka, Gabriel Garcia Marquez—these are the writers whose bodies of work I've read (or nearly read) to completion. I have nothing against prolific authors, but there are so many books out there to read already, and as a writer, I have always harbored the old fear that my own narrative voice may seem too derivative if I were to spend so much time reading a single author's work.

However, when I heard that Katherine Vaz had a new book out, I was eager to add her work to the list.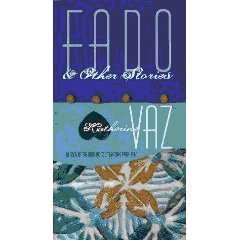 I have a soft spot for Vaz after having reviewed her first collection of short stories, Fado & Other Stories, for Margin back in 2000 during its first year live. Her story collection won the Drue Heinz Literature Prize in 1997, and I eagerly ran a special feature on Vaz as part of what would become a regular series for the anthology. Vaz, by the way, is also the author of two amazing novels: Saudade and Mariana, the former title deriving its strength from its magical realist context, the latter less so.

In retrospect, I believe that the quality of Vaz's storytelling at that time set the bar high for all other writers whose work I would encounter later while considering feature subjects, and to this day, she remains one of my favorite contemporary magical realists.

Vaz's writing style was (and remains) at once gorgeous, well tempered with humor and pathos, and true to the cultural identity of the Luso-American. In fact, she was credited in 1997 with being "the only Luso-American writer, and the only author in the United States tackling the theme of Portuguese emigration, to see her books published by the major publishing houses" by The Luso-Americano, the largest Portuguese-American newspaper in the US.

My favorite story in her first collection? It's hard to choose, but "The Remains of Princess Kaiulani's Garden," in which the daydreaming daughter of a laundress in Hawaii spends much of the story trying to assert her position in a world shaped by the influences of Oahu's cultural stew, remains solid in my memory years after having read it.

So, given such history, I eagerly devoured Vaz's latest collection, which won the Prairie Schooner Book Prize in Fiction in 2007 and which was released this year. And I found everything I'd anticipated: amazing storytelling, an extravagance of detail and lyric in the writing, and a loving and soulful sensitivity to the voices and experiences of her tribe.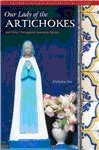 The title story is definitely a winner. Two characters, as a ruse to avoid eviction, mastermind a Virgin Mary sighting near the artichoke bed on the property and garner more attention than they expected:

"I asked why Mary would think of blazing a path here, and Tia Connie looked hurt and said, 'I tend so nice those artichokes in the patch in front. She'll visit and be Our Lady of the Artichokes, perch on the thorns, and she'll cry and cry, then disappear. People will say, 'Come back to me, water me with your tears.' The landlord son of a bitch gets trampled, maybe to death. That part I cannot help.'

"The richly piquant part of this miracle was that I, Isabel Serpa, seventeen-year-old smoker, a roller of eyes at Mass to convey that I believed nothing, would report the sighting; my infidel status gave me more credibility."

Another story of a sighting, "All Riptides Roar with Sand from Opposing Shores," captures the delicate nature of what people will believe. The story is composed of a series of letters exchanged between a girl in parochial school and a woman reported to have been given the three Secrets of Fatima in a vision (and who had revealed only two of them publicly). The courses of these disparate lives unravel in this epistolary piece studded with the sacred and mysterious images of burning wax figures—a repeating detail in Vaz's stories—and bottled pears hanging on the limbs of trees.

Other themes that set this collection apart from Vaz's earlier collection are dead (or dying) fathers and snapshots of violence that are hardly gratuitous when you consider how much violence defines or reflects the ordinary lives of all Americans.

What remains the same is Vaz's narrative blend of urgency and longing. In fact, this book might be described as yet another series of bittersweet fados, or mournful Portuguese songs of fate. The reader can't help but be compelled by Vaz's masterful, heartfelt storytelling, buoyed along by beautiful prose and precise imagery that matches the profound with the ordinary in startling new ways.

The definition of magical realism Vaz shared with me nearly a decade ago became precisely the one I've returned to again and again as a curator of magical realist literature: she cited "Carpentier's notion of marvelous reality—fiction's search for the extraordinary within the ordinary world to create a vision that elevates everything out of the mundane," adding that "this literary tradition seems particularly willing to elicit the invisible within the visible world to view them as a single entity."

The magical realism in her latest collection indeed resides like a shadow at one's feet during high noon. Her rendering of the crossroads where the ancient and the modern intersect is both subtle and all-encompassing, couched mostly in the mystical frame of Catholicism. Certainly, a hard-core fan of overt magical realism will be better satisfied with her first collection, even as Vaz's style continues to take on the qualities of the fairy tale while continuing her journey in chronicling the Portuguese immigrant experience. But for the fan of a more nuanced, elegant magical realism, her latest collection should more than fulfill that reader's destiny.


Story Copyright © 2009 by Tamara Kaye Sellman. All rights reserved.
Previous: Gail Anderson-Dargatz interview by Katy Wimhurst
---
---
About the author


Tamara Kaye Sellman is the publisher of Margin: Exploring Modern Magical Realism (www.magical-realism.com) and director of MRCentral.net, an interactive membership celebrating literary magical realism worldwide.




Home | Competition | Privacy | Contact | Sponsorship


---